In recent years, climbing documentaries have gained increasing popularity. Various filmmakers have captured the thrill and danger of this incredible sport and brought it to our screens.
You might have been looking for inspiration to hit the rocks yourself. Or you just want to relax on your couch and enjoy some breathtaking scenery and exciting stories.
Whatever your reason is, we've got you covered with some of the best climbing documentaries available today. Grab some popcorn and get ready for a thrilling experience.
With no specific order, here are 17 must-watch climbing documentaries.
1. Meru (2015)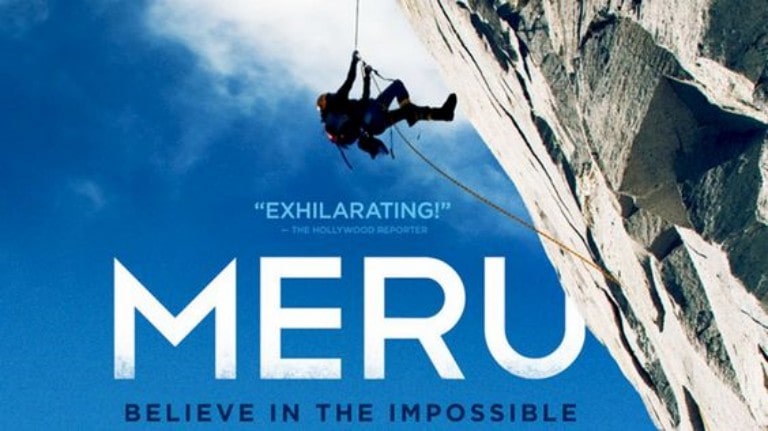 Image source: Google
Okay, I know we said no specific order, but Meru has to be from our top favorites. The documentary is about three climbers (Conrad Anker, Renan Ozturk, and Jimmy Chin) who attempt to climb Mount Meru.
The three men were the first to attempt ascending the "Shark Fin" route, which is a 4,000-foot wall. Their journey was full of obstacles and near-death experiences.
The movie has a 7.7 rating on IMDB. Further, it was nominated for 15 awards and won the following three:
Cinema Eye Audience Choice Prize (2016)
Cinema Eye Honors Award (2016)
Film Club's Lost Weekend Award (2015)
The documentary isn't only about climbing but also about passion, friendship, perseverance, and more. You will  experience a range of emotions watching this movie, from worry to admiration.
You can watch this documentary on Amazon Prime.
2. Free Solo (2018)
Image source: Google
One slip could mean the end! You shouldn't miss this classic, Oscar-winning documentary about Alex Honnold. This documentary also had the same directors as Meru; Jimmy Chin and Elizabeth Vasarhelyi.
The movie follows this professional rock climber as he attempts to free solo the 3,000-foot El Captain in Yosemite Valley, one of the world's most hazardous rock faces.
You'll be on the edge of your seat, watching Honnold dangerously climb with no ropes or safety equipment.
The documentary captures Honnold's physical and mental strength as he pushes himself beyond endurance. It takes the viewer through a psychological journey as you watch a man risk everything to chase his lifelong dream.
The movie received high praise from viewers and a rating of 8.1 on IMDB. Additional to winning an Oscar, the movie won 30 other awards and had 55 nominations.
You can find it on Google Play and Amazon Prime.
3. The Dawn Wall (2017)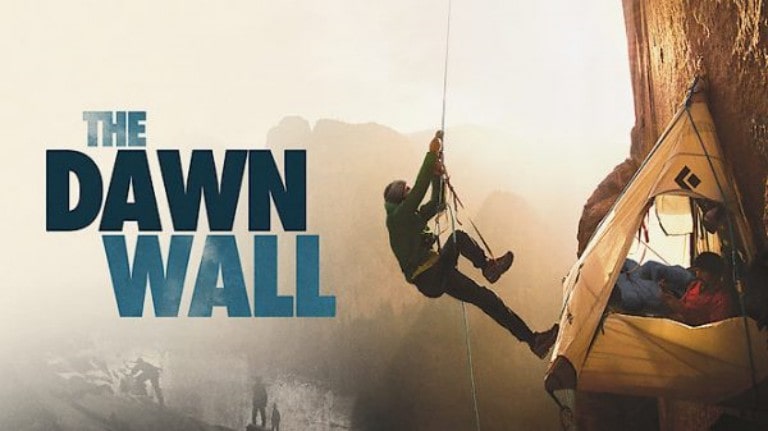 Image source: Google
The Dawn Wall is another documentary that features El Capitan. This time, it's about two climbers, Tommy Caldwell and Kevin Jorgeson, who have been trying to climb the 3,000-foot Dawn Wall for six years.
The documentary takes us through an epic journey of friendship as the two men ascend the nearly impossible rock face.
If you watch this one, we guarantee you'll be astounded by the commitment and skill of the two men. You'll also be taken away by the breathtaking cinematography that captures the beauty of Yosemite National Park.
The movie was nominated for seven awards and won six. It has a rating of 8.1 on IMDB.
You can find the documentary on Amazon Prime.
4. 14 Peaks: Nothing Is Impossible (2021)
Image source: Google
This is one of the more recent documentaries that tells the inspiring story of a climber from Nepal named Nirmal Purja. This climber accomplished the unimaginable by summiting 14 of the world's highest mountains (8,000-meter peaks) in seven months.
The movie takes us through his adventure in chronological order. It starts with his beginnings as a soldier and special forces agent, to his expedition through the mountains.
The film shows us how a man can be determined to overcome obstacles, and be courageous to achieve greatness and make history.
The movie got nominated for three awards, including the Emmy Awards. It also received a rating of 7.7 on IMDB.
The movie is available on Netflix.
5. Fine Lines (2019)
Image source: Google
Have you ever wondered why mountain climbers risk their lives for this sport? Or why do they do it at all? You can find the answers to such questions and more in Fine Lines.
This documentary will take you into the minds of 20 notable climbers who have dedicated their lives to this sport. The documentary features interviews with climbing legends, including Alex Honnold, Tommy Caldwell, and Lynn Hill.
Through a series of interviews, you'll learn what goes through climbers' minds as they go on their intense climbs. Moreover, you'll know about the motives that drive those athletes to make decisions when they're face to face with danger.
Besides reflecting on the risks and benefits of pursuing dreams, Fine Lines is a celebration of humanity.
The movie has a 7.0 rating on IMDB and has received the following three audience awards at Trento Film Festival in 2019.
You can watch the full documentary on YouTube or Amazon Prime.
6. Beyond the Edge (2013)
Image source: Google
This documentary is about the first-ever successful ascent of Mount Everest, need we say more? The documentary tells the story of Edmund Hillary and Tenzing Norgay, who amazed the world in 1953 by being the first two people to climb Everest.
The historical expedition and its difficulties are reenacted in the movie. The movie also features archived footage and recordings from interviews with Hilary.
This is a thrilling and uplifting movie that honors man's commitment to achieving the impossible.
The movie had four award nominations and won the following three awards:
New Zealand Film and TV Documentary Award (2013)
Camerimage Best 3D Documentary Film (2014)
New Zealand Cinematographers Society Bronze Award (2016)
The movie currently has a rating of 6.8 on IMDB. You can watch it on Amazon Prime.
7. Africa Fusion (2014)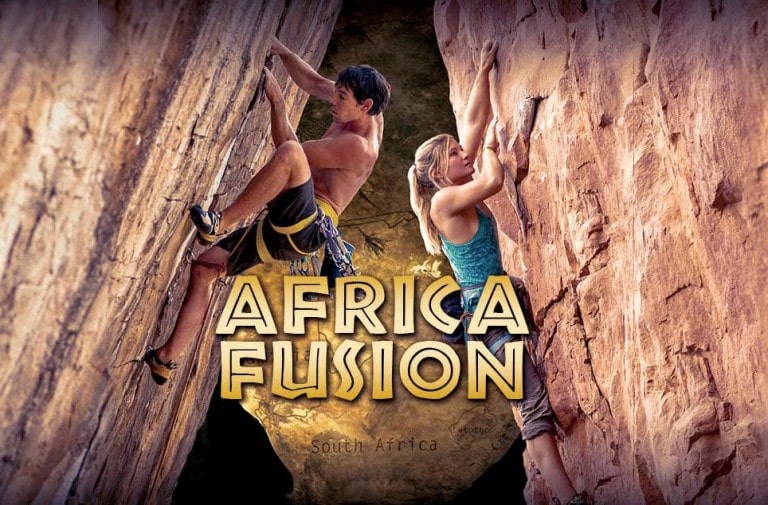 Image source: Google
This documentary follows two professional climbers, Alex Honnold and Hazel Findlay as they explore Africa. The movie shows us the duo's love for climbing, nature, and meeting new people.
As we travel with them through this beautiful continent, we get insights into Africa's culture. Music, and beautiful scenery. Moreover, we watch Honnold and Findlay climb some of the most challenging rock faces.
If you're looking for a light-hearted climbing documentary, then Africa Fusion is the one for you. The movie takes you through a cultural adventure while maintaining the thrill of climbing documentaries.
It has a 7.2 rating on IMDB, and it's available on Amazon Prime.
8. The Alpinist (2021)
Image source: Google
This documentary is about a young, 23-year-old Canadian who sets out on a solo adventure. The fearless Marc-André Leclerc has spent his life climbing some of the world's hardest and most remote mountains.
Leclerc prefers to go climbing alone and without safety equipment. This movie will certainly put your nerves to the test.
The Alpinist is a celebration of Leclerc's impressive achievements in climbing and his bravery in the face of danger. It also makes us reflect on what it means to have discipline and work hard to fulfill our goals.
The movie has a 7.9 rating on IMDB, and has received the following two distinguished awards:
Critics' Choice Documentary Award (Best Sports Documentary)
Sports Emmy Award (Outstanding Long Sports Documentary)
You can watch The Alpinist on Amazon Prime.
9. The Summit (2012)
Image source: Google
We should warn you; it's better to have a tissue box nearby before watching this one.
The Summit tells the story of one of the most tragic incidents in the history of mountain climbing. In 2008, 25 climbers attempted to reach the summit of K2, the second-highest mountain in the world (28,251 ft).
The documentary is about how unfortunate circumstances led to the mysterious death of 11 climbers.
The events that occurred that day are recreated using interviews, archived footage, and reenactments. The Summit is an emotional and compelling movie that is a tribute to the climbers who lost their lives on K2.
The movie also sheds light on the importance of teamwork, and how one person's decision can alter the lives of many.
The documentary was nominated for five awards and won three, including the Sundance World Cinema Documentary Award.
It has a rating of 6.8 on IMDB. You can watch it on Amazon Prime.
10. Dirtbag: The Legend of Fred Beckey (2017)
Image source: Google
This documentary tells the story of Fred Beckey, one of the most popular and controversial figures in mountaineering.
This legendary climber devoted his whole life to being a climber and testing his physical limitations. Moreover, he has inspired several generations to pursue their passion for climbing.
The movie gives us an insight into Beckey's life starting from his youth, all the way to becoming a climbing prodigy.
We also learn through the movie how Beckey came to be known as "Dirtbag." A name he received because he spent most of his life socially isolated and earned little to no money, all to pursue his passion for climbing.
Beckey was dedicated to sharing his knowledge and teaching people about climbing.
The documentary is rated 7.6 on IMDB. It also received three awards including a people's choice award.
You can find it on Amazon Prime.
11. Touching The Void (2003)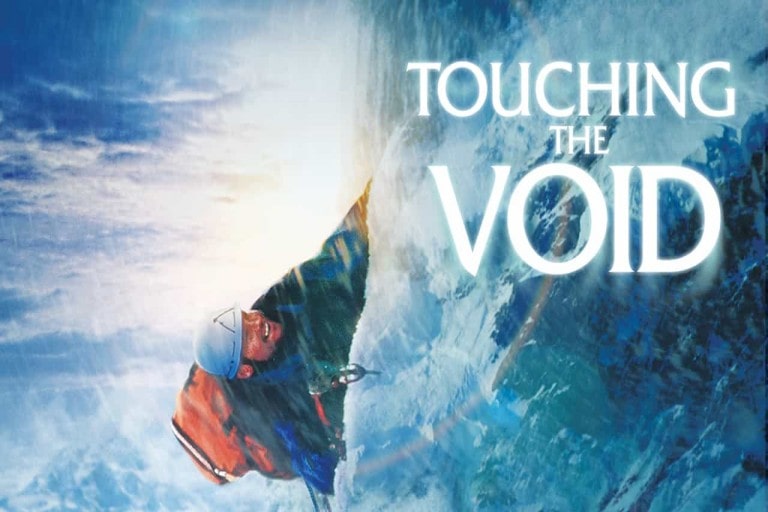 Image source: Google
Touching The Void is a thrilling story that chronicles the journey of two climbers. Joe Simpson and Simon Yates set out to climb the Siula Grande in Peru in 1985.
The movie details their trip that included morals about friendship, endurance, and survival.
Directed by Kevin Macdonald, the movie uses a narrative technique, along with interviews and reenactments to bring real-life events to the screen.
Overall, this is an outstanding documentary that reflects on human perseverance in the face of challenges.
The movie was nominated for ten awards and won eight, including Seatle Film Critics Award, and a BAFTA award.
The documentary also has a rating of 8.0 on IMDB. You can watch it on Amazon Prime.
12. Miracle on Everest
Image source: Google
This is the story of a man who came back from the dead! Miracle on Everest tells the miraculous story of Lincoln Hall; a climber from Australia who attempted to summit Everest in 2006.
Hall's team left him for dead on the mountain when he collapsed from the altitude and got very sick that they thought he was dying.
However, Hall could survive the Death Zone of Mount Everest all by himself for an entire night. The next morning, he was found by other climbers who helped in his rescue.
The movie tells an interesting and uplifting story about perseverance and bravery.
The documentary includes interviews with Hall, his family, and rescuers.
The movie has a 7.0 rating on IMDB and received an Award of distinction from the Australian Cinematographers Society.
You can watch the full documentary on YouTube.
13. Beyond Gravity (2000)
Image source: Google
From Canada, Greenland, Australia, and the US, this documentary features a diverse group of climbers. It offers an insight into the different techniques those professionals use for climbing.
What's more, each climber gives their unique perspective about the journeys they went on.
The movie includes stunning views and thrilling stories. This is a great documentary to watch if you want to learn about the fun and risks involved in the sport of mountain climbing.
The movie is a reminder of human potential and the capability to achieve wonderful things. It's also a celebration of this amazing sport and the people who dedicated their lives to it.
The movie's IMDB rating is 7.6. You can watch it on Amazon Prime.
14. 180° South (2010)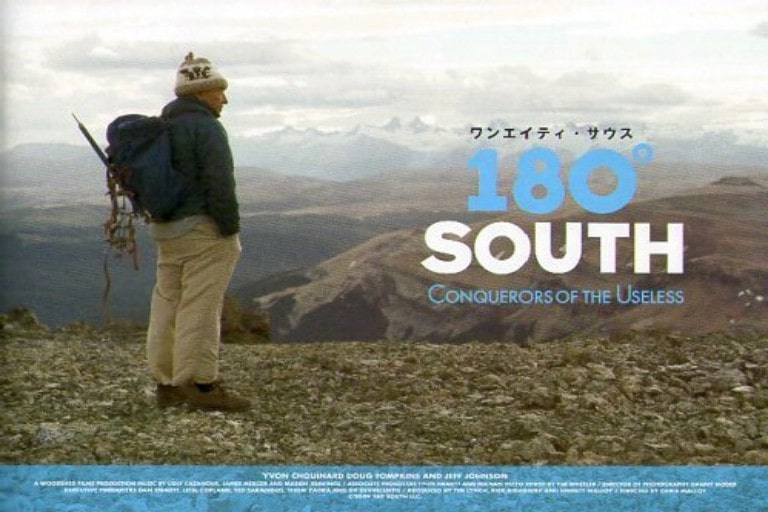 Image source: Google
This documentary is about a man who decided to follow in the footsteps of his role models. The movie follows the climber Jeff Johnson as he recreates the journey taken by Yvon Chouinard and Doug Tompkins, who traveled from Ventura to Patagonia in 1968.
Johnson's end goal was to climb the Corcovado Volcano in Patagonia.
Throughout his journey, he meets interesting people, faces difficulties, and gains new experiences.
This movie is unique because it not only shows breathtaking views of the mountains but of the sea too; as Johnson made his trip to Patagonia by boat.
The documentary also highlights the environmental issues that Patagonia faces, which Johnson learns about on his journey. The movie captures the thrill of adventure and exploration as well.
180° South has a 7.5 IMDB rating. You can watch it on Amazon Prime.
15. The Wildest Dream: Conquest of Everest (2010)
Image source: Google
Get ready to be thrilled by this documentary. It tells the stories of two different men on Everest 75 years apart.
In 1924, George Mallory attempted to climb Mount Everest but mysteriously disappeared. In 1999, Conrad Anker found Mallory's frozen body.
The documentary tells the two men's stories. It shows us Anker's journeys and how they led him to find Mallory's body. It also tells us Mallory's biography and what led him to attempt summiting Everest.
The movie uses a combination of letters, original footage from the 1920s, archived footage, and reenactments to tell the two stories.
It's rated 7.2 on IMDB. It was nominated for three awards and won the following two:
Best Adventure Film (Boulder International Film Festival)
Film Achievement Award (Giant Screen Cinema Association)
You can find it on Amazon Prime.
16. Torn (2021)
Image source: Google
If the movie title wasn't enough of an indicator, we suggest you grab the tissue box for this one too.
This documentary tells the tragic story of the legendary Alex Lowe who died along with his cameraman and friend David Bridges on the Tibetan mountain of Shishapangma.
After Lowe's death, renowned climber and Lowe's best friend Conrad Anker decided to raise Lowe's three sons.
Torn was filmed by Lowe's eldest son Max. As such, the documentary gives us a review of the life and death of Alex Lowe, and how his death affected his family and friends.
Moreover, the movie includes heartwarming interviews with Lowe's loved ones.
The movie also includes archived footage of Lowe's journey and early footage of Anker and Alex when they were young and aspiring climbers.
The documentary's IMDB rating is 7.5.
17. The Wall of Shadows (2020)
Image source: Google
The Wall of Shadows is a unique climbing documentary that'll leave you reflecting on what's important in life.
This is the story of the Sherpa family, who takes a big risk to create a better life for their son.
They decide to join a Himalayan expedition to the mountain of Kumbhakarna. In the Sherpa's culture, that mountain is considered sacred, and they're forbidden to climb it.
However, they decide to take that risk to earn enough money to put their son in school and free him from their traditions.
Throughout their journey, they face many life threats. They also find themselves having to deal with moral dilemmas as they're torn between their spiritual connection with the mountain and their desire to seek a new life.
The movie explores what it means to make a big sacrifice for your family. It explores the concepts of identity and cultural differences too.
The movie is rated 7.2 on IMDB. It had two award nominations and received four awards, including Best Film on Climbing in Banff Mountain Film Competition.
You can find The Wall of Shadow on Netflix.
Now What?
That was it! These were our suggestions for what we think are thrilling climbing documentaries.
You can choose to watch a few or watch them all! Whatever documentary you pick, we guarantee you'll love it.
We hope this saves you the trouble of deciding what to watch. Enjoy!