Have you heard of Azja Pryor?
Perhaps you did, but most people only know her as Chris Tucker's ex-wife.
Azja Pryor became famous only after her marriage to the famous comedian Chris Tucker. Although the relationship was short-lived, it had a major influence on Pryor's life.
Read on for more about Azja Pryor's early life, career, relationships, children, and net worth. 
Early Life
Azja Pryor was born on September 18, 1978, in Berkley, California. Her mother is Deborah Pryor, but nothing is known about her biological father. 
Upon birth, she took her mother's name. Given her last name, some reports claim that she is Richard Pryor's biological daughter. However, there's nothing to support that claim.
Azja grew up with two siblings, a brother and a sister. However, very little is known about them. She tends to keep her personal information confidential.
She went to Alexander Hamilton Sr. High School. Upon graduation, she joined Los Angeles Community College.
Career
Azja Pryor has a long and successful career across various fields. She started her career path as a casting director for music videos and TV shows. 
For instance, she was one of the casting directors in the TV show Eve in 2003. Despite her success, this show isn't what made her famous. She only came under the spotlight when she married Chris Tucker.
Recently, she made a career shift and started working as a health coach. Her role involves coaching people towards leading a healthier life via dieting and exercising.
She's also a successful coach at the Center for Babywearing Studies (CBWS), where she assists new parents in dealing with their babies.
In addition, Azka Pryor has several philanthropic endeavors. She's an active participant in the development of non-profit organizations, such as the American Heart Association and the Children's Hospital of Los Angeles.
Family and Relationships
Azja cherishes family life. She now leads a quiet life with her little family away from the spotlights. Previously, she had several relationships, including:
Azja Pryor and Chris Tucker
In the late 1990s, the young Azja Pryor met Chris Tucker, a star comedian. They were both still setting off in their careers, but Chris was a lot more famous.
The couple dated for a while, and tied the knot in 1997. That's when the young casting director came to fame. People began to recognize Azja as the loving wife of the up-and-coming comedian Chris Tucker.
A year into their marriage, their son Destin was born. Unfortunately, their marriage was short-lived. Chris and Azja split up in 2003, but they managed to maintain a healthy relationship for the sake of their only son, Destin Tucker.
Azja Pryor and Ludacris
Two years after her divorce, Azja began dating the actor and rapper Christopher Brian Bridges, more commonly known as Ludacris. 
However, their relationship didn't last more than one year. The couple split up in 2006, and the reason behind their separation remains unknown.
Azja Pryor and Cherif Ndiaye
Now, Azja Pryor is married to Cherif Ndiaye. Ndiaye is a Senegalese life coach and personal trainer. There's no clear date for the beginning of their relationship, but it seems to have started sometime before 2015.
At the time of marriage, Ndiaye had two children from a previous relationship, and Pryor had one. The couple managed to maintain strong ties with all their children.
This relationship became even stronger when Azja and Cherif got their lovely little girl, Iman Joelle. She became the link that ties all the family together. 
Children
Azja Pryor has two children from two different relationships. Her firstborn is Destin Tucker and the second is her daughter Iman Joelle from her marriage with Ndiaye.
Destin Tucker
Destin Christopher Tucker was born on September 13, 1998, to Chris Tucker and Azja Pryor. He went to Oaks Christian School in Los Angeles.
In May 2021, he got a degree in Cinema, Television, and Emerging Media Studies from Atlanta's Morehouse College.
Although Destin shares his father's interest in the entertainment business, he chose to work behind the camera and pursue a career in filmmaking rather than acting.
Iman Joelle Ndiaye
Iman Joelle is Azja's second daughter. She was born on April 16th, 2017 to Azja and Cherif Ndiaye.
As of 2023, Iman Joelle is only six years old. She lives happily with her parents in Los Angeles, California. The little girl also has strong ties with her three half-siblings.
Azja Pryor's Net Worth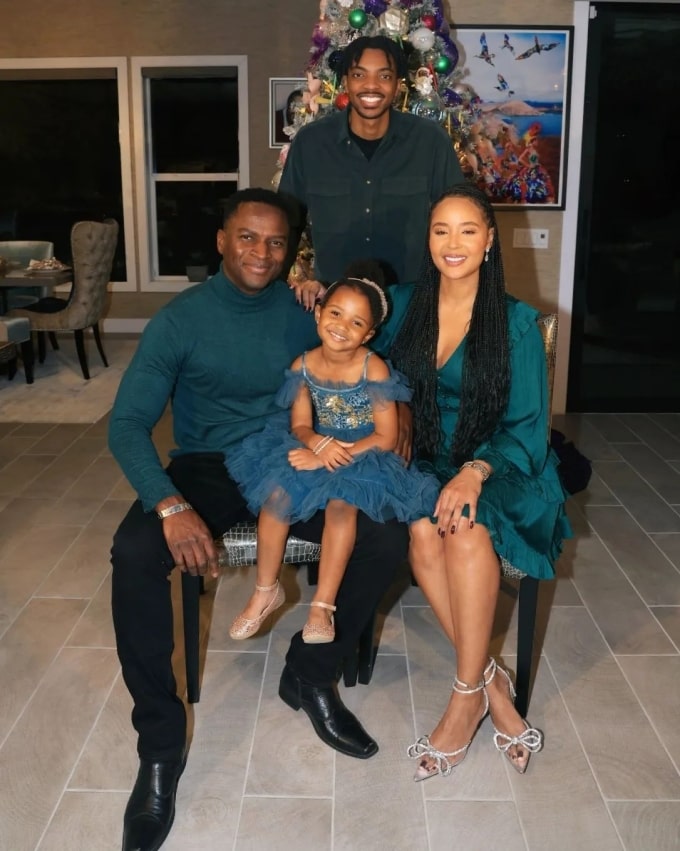 Azja Pryor is a successful health coach and casting director. That has helped her accumulate much wealth.
Some reports estimate that her net worth is between $800,000 and $1 million. However, it's all speculation, and there's no proof of her real net worth.
Conclusion
Azja Pryor is a casting director and health coach. She's famous for her relationship with comedian Chris Tucker.
She's now happily married to coach Cherif Ndiaye. She has two kids. The first is Destin, whom she had with Chris Tucker, and the second is Iman Joelle from her second marriage.
Azja Pryor and her husband maintain a healthy relationship with Ndiaye's two children from a previous marriage.
Pryor is a successful career and family-oriented woman, who came to the limelight only after her marriage to Chris Tucker.
---